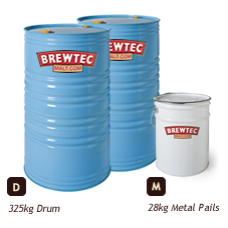 HALF PRICE Maltexo UME Amber 28kg (Dated BB 1 Dec 2018)
(7)
HALF PRICE Maltexo UME Amber 28kg (Dated BB 1 Dec 2018)
HALF PRICE Maltexo UME Amber 28kg (Dated BB 1 Dec 2018)
Brands
Maltexo
Product Code:
7364
Availability:
7
BREWTEC Brewing Grade Malt Extract - Unhopped Amber
Unhopped Amber malt is made from malted barley and is a brown viscous liquid with a characteristic malt flavour. The extraction process inactivates the diastatic power.

Application
Brewing grade malt extract is intended for use in brewing beer. It can be used as a straight grain malt replacement or, when added to a conventional mash, as a brew extender.

Ingredients
Malt: 94.5% Lager, 3.8% Crystal, 1.3% Black, 0.4% Roasted malts

Organoleptic Properties
Flavour and aroma characteristic of amber malt extract free from any foreign or burnt flavours.

Chemical / Physical Specifications
Attribute Specification
Total Solids (refractometer) 78.5 – 81.5
pH (5% solution) 4.7-5.9
Colour (EBC method at 80 Brix) 256-320

Microbiological Specifications
Organism Specification (cfu/g)
Aerobic Plate Count <10000
Yeast and Mould <100

Storage Conditions and Shelf life
Packaging Shelf life (unopened)
325kg drums – sku 7292 2 years
28kg metal pails – sku 7352 2 years

• Ideally storage conditions are at ambient (below 20c) to prevent colour development.
• Attach heating prior to transfer and only as long as needed.
• The extract is sealed to preserve its flavour and sterility. Once the seal has been broken it is recommended to store in cool / refrigerated conditions and use within 2 weeks.